International Bra Size Conversion
International Size Conversion
EU/I.D. Sarrieri Size
US/UK
FR
AU
IT
70A
32A
85A
10A
1A
70B
32B
85B
10B
1B
70C
32C
85C
10C
1C
70D
32D
85D
10D
1D
70DD
32DD
85DD
10DD
1DD
70E
32E
85E
10E
1E
70F
32F
85F
10F
1F
70G
32G
85G
10G
1G
75A
34A
90A
12A
2A
75B
34B
90B
12B
2B
75C
34C
90C
12C
2C
75D
34D
90D
12D
2D
75DD
34DD
90DD
12DD
2DD
75E
34E
90E
12E
2E
75F
34F
90F
12F
2F
75G
34G
90G
12G
2G
80A
36A
95A
14A
3A
80B
36B
95B
14B
3B
80C
36C
95C
14C
3C
80D
36D
95D
14D
3D
80DD
36DD
95DD
14DD
3DD
80E
36E
90E
14E
3E
80F
36F
90F
14F
3F
80G
36G
90G
14G
3G
85A
38A
100A
16A
4A
85B
38B
100B
16B
4B
85C
38C
100C
16C
4C
85D
38D
100D
16D
4D
85DD
38DD
100DD
16DD
4DD
85E
38E
100E
16E
4E
85F
38F
100F
16F
4F
85G
38G
100G
16G
4G
90B
40B
105B
18B
5B
90C
40C
105C
18C
5C
90D
40D
105D
18D
5D
90E
40E
105E
18E
5E
90F
40F
105F
18F
5F
90G
40G
105G
18G
5G
95B
42B
110B
20B
6B
95C
42C
110C
20C
6C
95D
42D
110D
20D
6D
95E
42E
110E
20E
6E
95F
42F
110F
20F
6F
95G
42G
110G
20G
6G
100C
44C
115C
22C
7C
100D
44D
115D
22D
7D
100E
44E
115E
22E
7E
100F
44F
115F
22F
7F
100G
44G
115G
22G
7G
105C
48C
120C
24C
8C
105D
48D
120D
24D
8D
105E
48E
120E
24E
8E
105F
48F
120F
24F
8F
How to Measure Yourself
Step 1 - Measure your Band Size/Under BustWearing a non padded bra, use a tape measure placed under the bust (refer to diagram) to measure your size in cms or inches. Ensure the tape measure is level and parallel and note your measurement at the tightest point.
Step 2 – Measure your Bust Reposition the tape measure at the back of your bra and measure the circumference of your bust. Bring the tape measure around to the front of your bust. Keep the tape measure loose and make a note of your measurement.
Step 3 – Find your size Asdd your measurements in to the Size Guide Calculator above for your perfect size. More measurements are noted below. This will provide you with your I.D Sarrieri size.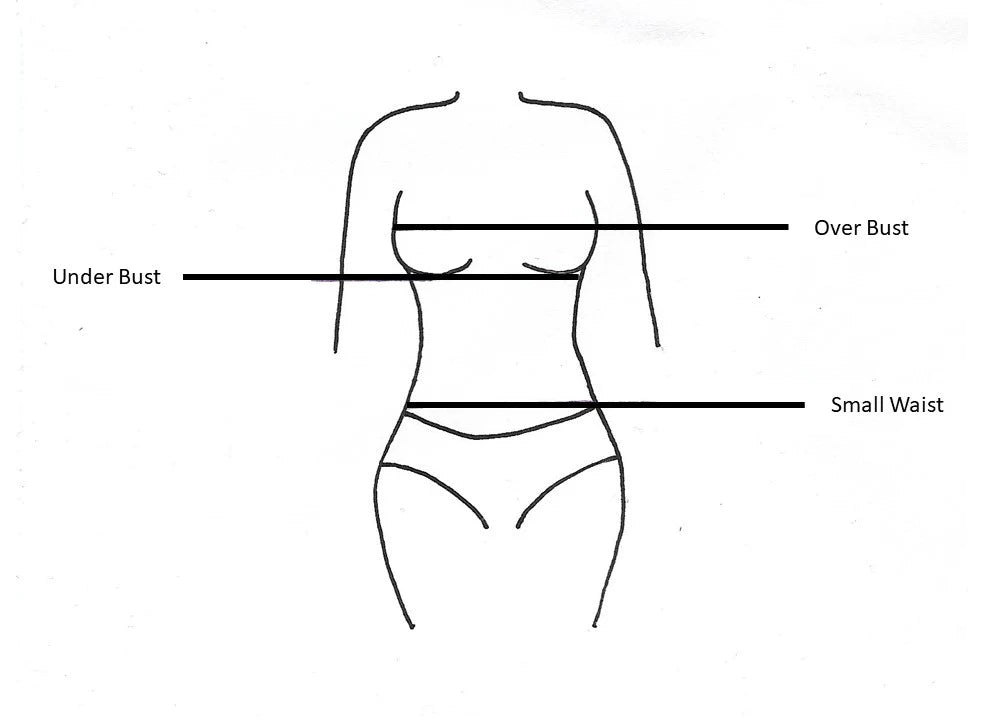 International Bras/Corsets/Bustiers Size Conversion
International Size Conversion
EU/I.D. Sarrieri Size
US/UK
FR
AU
IT
70A
32A
85A
10A
1A
70B
32B
85B
10B
1B
70C
32C
85C
10C
1C
70D
32D
85D
10D
1D
70DD
32DD
85DD
10DD
1DD
70E
32E
85E
10E
1E
70F
32F
85F
10F
1F
70G
32G
85G
10G
1G
75A
34A
90A
12A
2A
75B
34B
90B
12B
2B
75C
34C
90C
12C
2C
75D
34D
90D
12D
2D
75DD
34DD
90DD
12DD
2DD
75E
34E
90E
12E
2E
75F
34F
90F
12F
2F
75G
34G
90G
12G
2G
80A
36A
95A
14A
3A
80B
36B
95B
14B
3B
80C
36C
95C
14C
3C
80D
36D
95D
14D
3D
80DD
36DD
95DD
14DD
3DD
80E
36E
90E
14E
3E
80F
36F
90F
14F
3F
80G
36G
90G
14G
3G
85A
38A
100A
16A
4A
85B
38B
100B
16B
4B
85C
38C
100C
16C
4C
85D
38D
100D
16D
4D
85DD
38DD
100DD
16DD
4DD
85E
38E
100E
16E
4E
85F
38F
100F
16F
4F
85G
38G
100G
16G
4G
90B
40B
105B
18B
5B
90C
40C
105C
18C
5C
90D
40D
105D
18D
5D
90E
40E
105E
18E
5E
90F
40F
105F
18F
5F
90G
40G
105G
18G
5G
95B
42B
110B
20B
6B
95C
42C
110C
20C
6C
95D
42D
110D
20D
6D
95E
42E
110E
20E
6E
95F
42F
110F
20F
6F
95G
42G
110G
20G
6G
100C
44C
115C
22C
7C
100D
44D
115D
22D
7D
100E
44E
115E
22E
7E
100F
44F
115F
22F
7F
100G
44G
115G
22G
7G
105C
48C
120C
24C
8C
105D
48D
120D
24D
8D
105E
48E
120E
24E
8E
105F
48F
120F
24F
8F
International Bra Size Conversion
International Size Conversion
EU/I.D. Sarrieri Size
US/UK
FR
AU
IT
70A
32A
85A
10A
1A
70B
32B
85B
10B
1B
70C
32C
85C
10C
1C
70D
32D
85D
10D
1D
70DD
32DD
85DD
10DD
1DD
70E
32E
85E
10E
1E
70F
32F
85F
10F
1F
70G
32G
85G
10G
1G
75A
34A
90A
12A
2A
75B
34B
90B
12B
2B
75C
34C
90C
12C
2C
75D
34D
90D
12D
2D
75DD
34DD
90DD
12DD
2DD
75E
34E
90E
12E
2E
75F
34F
90F
12F
2F
75G
34G
90G
12G
2G
80A
36A
95A
14A
3A
80B
36B
95B
14B
3B
80C
36C
95C
14C
3C
80D
36D
95D
14D
3D
80DD
36DD
95DD
14DD
3DD
80E
36E
90E
14E
3E
80F
36F
90F
14F
3F
80G
36G
90G
14G
3G
85A
38A
100A
16A
4A
85B
38B
100B
16B
4B
85C
38C
100C
16C
4C
85D
38D
100D
16D
4D
85DD
38DD
100DD
16DD
4DD
85E
38E
100E
16E
4E
85F
38F
100F
16F
4F
85G
38G
100G
16G
4G
90B
40B
105B
18B
5B
90C
40C
105C
18C
5C
90D
40D
105D
18D
5D
90E
40E
105E
18E
5E
90F
40F
105F
18F
5F
90G
40G
105G
18G
5G
95B
42B
110B
20B
6B
95C
42C
110C
20C
6C
95D
42D
110D
20D
6D
95E
42E
110E
20E
6E
95F
42F
110F
20F
6F
95G
42G
110G
20G
6G
100C
44C
115C
22C
7C
100D
44D
115D
22D
7D
100E
44E
115E
22E
7E
100F
44F
115F
22F
7F
100G
44G
115G
22G
7G
105C
48C
120C
24C
8C
105D
48D
120D
24D
8D
105E
48E
120E
24E
8E
105F
48F
120F
24F
8F
Knickers
RTW International Size Conversion
International
XS
S
M
L
XL
2XL
3XL
UK/AU
6-8
8-10
10-12
12-14
14-16
16-18
18-20
USA
2-4
4-6
6-8
8-10
10-12
12-14
14-16
IT
38-40
40-42
42-44
44-46
46-48
48-50
50-52
FR
36-38
38-40
40-42
42-44
44-46
46-48
48-50
On Bust
83-88cm
88-93cm
93-98cm
98-103cm
103-108cm
108-113cm
113-118cm
Waist
59-63cm
64-68cm
69-73cm
74-79cm
80-84cm
85-89cm
90-94cm
Hips (Small Hip)
85-89cm
90-94cm
95-99cm
100-104cm
105-109cm
110-114cm
115-119cm
Bodies and Slip Dresses
RTW International Size Conversion
International
XS
S
M
L
XL
2XL
3XL
UK/AU
6-8
8-10
10-12
12-14
14-16
16-18
18-20
USA
2-4
4-6
6-8
8-10
10-12
12-14
14-16
IT
38-40
40-42
42-44
44-46
46-48
48-50
50-52
FR
36-38
38-40
40-42
42-44
44-46
46-48
48-50
On Bust
83-88cm
88-93cm
93-98cm
98-103cm
103-108cm
108-113cm
113-118cm
Waist
59-63cm
64-68cm
69-73cm
74-79cm
80-84cm
85-89cm
90-94cm
Hips (Small Hip)
85-89cm
90-94cm
95-99cm
100-104cm
105-109cm
110-114cm
115-119cm
Ready to Wear & Loungewear
RTW International Size Conversion
International
XS
S
M
L
XL
2XL
3XL
UK/AU
6-8
8-10
10-12
12-14
14-16
16-18
18-20
USA
2-4
4-6
6-8
8-10
10-12
12-14
14-16
IT
38-40
40-42
42-44
44-46
46-48
48-50
50-52
FR
36-38
38-40
40-42
42-44
44-46
46-48
48-50
On Bust
83-88cm
88-93cm
93-98cm
98-103cm
103-108cm
108-113cm
113-118cm
Waist
59-63cm
64-68cm
69-73cm
74-79cm
80-84cm
85-89cm
90-94cm
Hips (Small Hip)
85-89cm
90-94cm
95-99cm
100-104cm
105-109cm
110-114cm
115-119cm
Beachwear
RTW International Size Conversion
International
XS
S
M
L
XL
2XL
3XL
UK/AU
6-8
8-10
10-12
12-14
14-16
16-18
18-20
USA
2-4
4-6
6-8
8-10
10-12
12-14
14-16
IT
38-40
40-42
42-44
44-46
46-48
48-50
50-52
FR
36-38
38-40
40-42
42-44
44-46
46-48
48-50
On Bust
83-88cm
88-93cm
93-98cm
98-103cm
103-108cm
108-113cm
113-118cm
Waist
59-63cm
64-68cm
69-73cm
74-79cm
80-84cm
85-89cm
90-94cm
Hips (Small Hip)
85-89cm
90-94cm
95-99cm
100-104cm
105-109cm
110-114cm
115-119cm